Another Win for Corona RNs: Pediatrics Unit Reopens
December 2013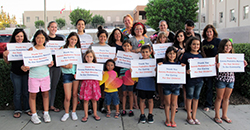 When Corona Regional Medical Center announced that it was closing our Pediatrics Unit, Corona RNs stood up and spoke out for the tens of thousands of children in Corona who need us:
Speaking out at City Council meetings
Reaching out to community allies
Uniting with UNAC/UHCP members who live in Corona
Informing local elected officials
Confronting CEO Metcalfe at City Hall
Now Corona has announced plans to reopen the Pediatrics Unit.
We can stand strong in the knowledge that this would not have happened without Corona RNs uniting, standing up and speaking out as patient's advocates for the children of Corona.
Download a two-page leaflet with more information and photos.